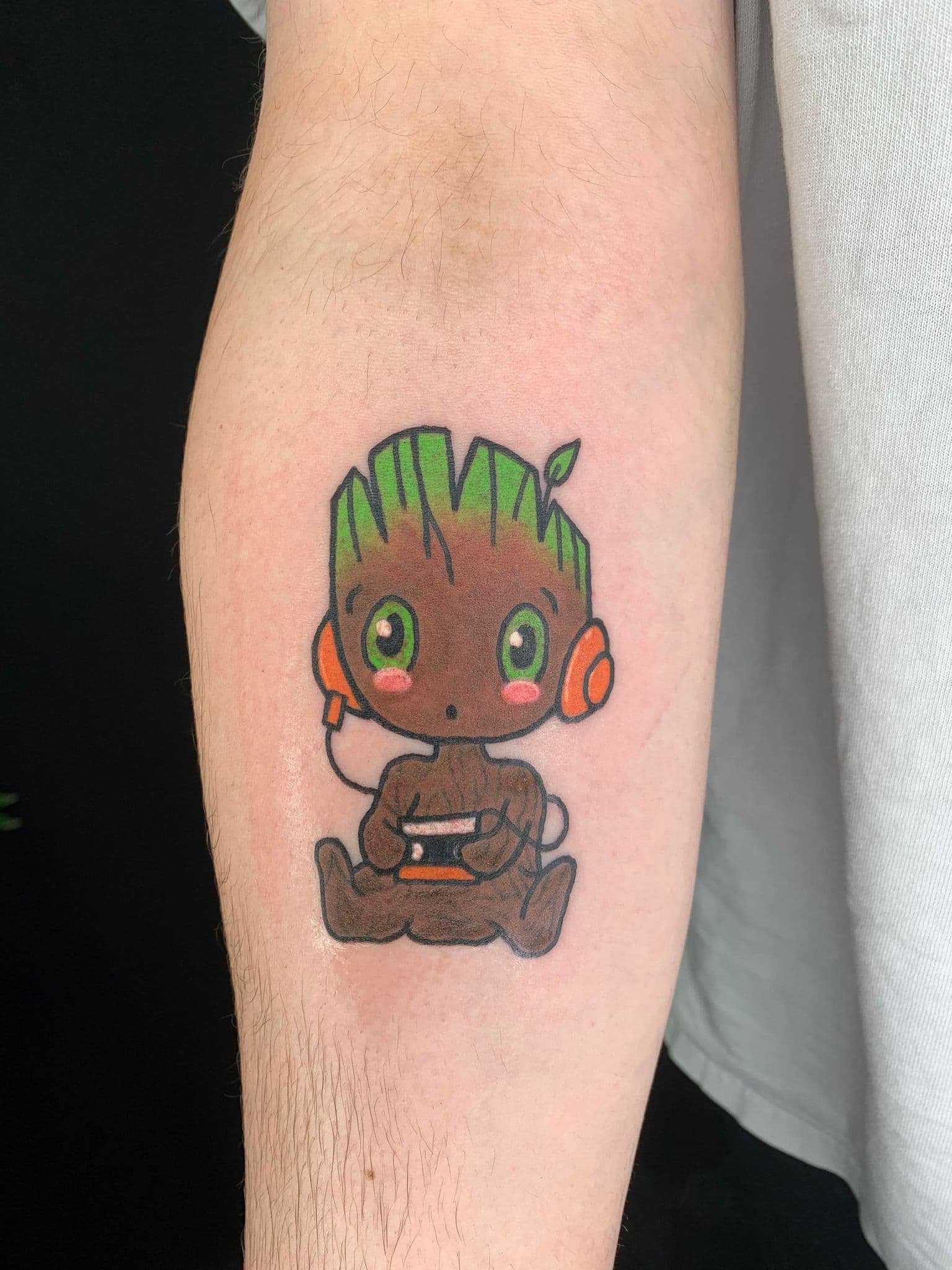 Spotlight on Annabel our Apprentice
Do you dream about becoming a tattoo artist? An apprentice is usually the first step that you would take to gain the skills and experience needed to get you into the tattoo industry. We interviewed our apprentice, Annabel to find out what put her on this career path, what her first tattoo was and how her journey is going so far.
I've always been really passionate and obsessed with doing art, I used to bunk most of my lessons in school to do more of my art work (oops!) 😂 but it was just always my happy place and definitely the career path I always wanted to go down. When I was a kid I would save all my pocket money and buy hundreds of temporary tattoo sheets and when I figured out how to do them I was covering myself and all my friends in them, I think that was the first sign when I was as young as 7! I wanted to officially be a tattoo artist from as early 13, I remember watching Miami Ink on the TV and falling in love with Kat Von D thinking she was the coolest person ever. From then I'd spend all my free time drawing tattoo designs, even if they weren't that great back then, and trying to build a portfolio. I'd always draw over my hands and arms when I was bored and imagine they were real tattoos because not only did I enjoy doing it, but I realised how much more confident and like 'me' I felt being covered in art. As I got older I continued to draw non stop and my parents would take me to tattoo conventions to try and understand the industry better; they are quite 'old fashioned' in their thoughts and I was going to be the first in the entire family with tattoos, let alone going into a career of it. My mum actually queued with me for 5 hours in the rain when I was 15 so I could meet Kat Von D and thank her for starting my journey into the love for the tattoo world.
My first real tattoo was a stick and poke I did on my finger from a tattoo kit my friends had bought me for my 17th birthday. It's of Miley Cyrus' logo and I still love it because it was a huge start of my path in the tattoo world. But my first professional tattoo was two skulls in a heart from an artist's Valentine's Day flash I really fell in love with, I got that four days after my 18th birthday in between some lessons at college. I remember being in the studio and feeling so welcome and almost at peace with myself, it finally all felt real and fuelled me to find an apprenticeship as soon as I could.
Over the years of working on my portfolio, even into my apprenticeship, I struggled to find a style I really clicked with. A lot of my art work was predominately dot work designs, things like flowers or simplified portraits, and for a long time I thought this was the style of tattooing I wanted to go into. However, over the past couple of years I really began to adore all cartoon style of tattoos. Bright colours, bold lines, anything that just screams 'fun!' Now I can confidently say that is my style. Cute Disney designs, video game characters or anything with huge bursts of colours is just right up my street and it doesn't feel like a job when I'm designing or tattooing them, it makes me extremely happy!
I officially started my apprenticeship at Nemesis in June 2021 and truthfully haven't felt happier since. My friend told me to apply for one of their openings on reception and I was very doubtful I'd get it, but after an interview and a few trial shifts they offered me a place on their team! I was very lucky finding them because due to having experience in previous studios they let me begin my tattoo journey pretty much on my first day. I did a sketchy teacup line tattoo on my friend Poppy and I had my boss Attila guiding me the whole way. I was so anxious about how to hold the machine, how deep to go and near enough worried about everything! But they've taught me so much, made me feel so welcome and encouraged me more than I could have ever asked for. There's been hurdles in the past regarding this dream but now I'm finally where I've always wanted to be, in a shop surrounded by some of the best people! I'm so thankful for finding Nemesis because for the first time forever, I found a job where I feel like I'm not even at work but with friends and family.
Check out some of Annabel's favourite pieces! She's made so much progress she won't be an apprentice much longer. If you'd like to book her while she's still offering apprentice rates, get in touch soon!